Ball Wall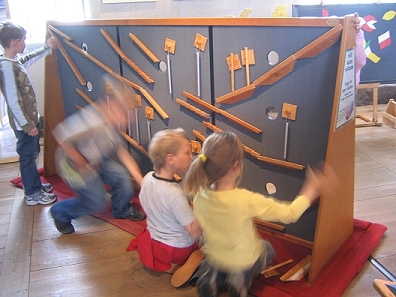 This is an exhibit where only fantasy limits your experience. The number of possibilities to arrange the wooden pieces, on both sides, are unlimited. Children can sit for hours, using their fantasy to create new patterns / ways for the wooden ball to roll downward. It is all accompanied by the soft sounds created by the aluminium tubes, when hit by the balls.

This exhibit takes almost no maintenance
Material Frame: massive wood. Board: M D F
Burr carpet Special very durable , grey
Wooden pieces 35 pcs
Wooden bolls 5 pcs
Colour frame Varnish
Width 600 mm
Length 2430 mm
Height 13000mm

A soft synthetic carpet covers the bottom plate.
Length 2600 mm
Width 600 mm